I'm not really much of a fan of Tagalog movies, but I usually make an exception whenever Piolo Pascual is in it.
"Kahit Isang Saglit," "Till There Was You," "Dont Give Up on Us," "Love Me Again," and of course my faves "Milan," and "Starting Over Again."
From the movie locations, the story, the acting, his movies are always memorable, and when it comes to "hugot" lines Piolo's movies is an entire library.
Who could forget the lines: "Mahal mo ba ako dahil kailangan mo ako, o kailangan mo ako kaya mahal mo ako?
or… "I deserve an explanation! I need an acceptable reason!"
It has been quoted, re-enacted, and TikTok'ed countless of times, but now BDO is giving those classic lines a different treatment–and bring a different kind of emotion–and some smiles on our faces.
2020 has been a tough year for all of us, we've faced volcanic eruptions, typhoons, floods and this COVID-19 pandemic tops it all, and according to experts these times of uncertainty brings a wave of mental illness.
There's no avoiding that: people are anxious, afraid, and many have lost jobs and face an uncertain future. Add to that our collective isolation, loneliness, and dread makes our Overseas Filipinos (OFs) even more vulnerable. 
Actor Piolo Pascual is among those calling for more support for OFs during the pandemic. He said that overseas Filipinos are already under a great amount of pressure as they face tough emotional, physical, and financial challenges. It's not surprising then that some of them would have mental health issues.
Recently, Piolo revisited a couple of the characters he played not for a sequel but for there new videos produced by BDO to be shown in BDO branches, BDO's YouTube channel and on BDO Kabayan Facebook page. 
The commercials are light-hearted spin-offs or even slight spoofs of classic scenes in his movies "Milan" (with Claudine Barretto) and "Starting Over Again" (with Toni Gonzaga). As the videos' release coincides with OFs' present situation, they take on more significance and meaning in Piolo's view.
"Mahilig ang mga Pinoy sa drama eh. Pero pati comedy rin. Etong mga videos, parang pinagsama yan tapos may twist. Yung pangkalahatan na mensahe ng video ay kailangan natin ngayon: yung kasiyahan at pag-asa.
"Ang drama natin ngayon, real life. Pandemic. Lost jobs. Quarantine. Sandaang araw na itong drama. Hindi kagaya ng drama sa pelikula, two hours lang. So we need relief, we need to feel lighter, to see that we can still smile. Ma-realize lang natin na, oo nga, okay pa rin tumawa, magsaya. Na meron pa ring pag-asa. May solusyon. We can always find ways," said Piolo.
"For decades, our economy benefited from billions of dollars in remittances. At this time, it's our turn to give back and support OFs now that they are going through both a pandemic and an economic downturn," said Piolo.
In one video, "Starting Over There", a desperate man (named Marco Villanueva, played by Piolo) chases after a taxicab in the rain, calling after "Ginny" (the character played by Toni Gonzaga in the original film). It is implied that, similar to the film, Ginny is leaving Marco to work abroad.
We then realize that Marco is doubly desperate as he kneels in the rain, because Ginny seems to have left with his ATM card. He says that he needs it to access a remittance. Then a twist happens when an old woman, hair done in curlers, finds Marco as he fumbles in his pockets. Marco sees the ATM card was in his pocket all along.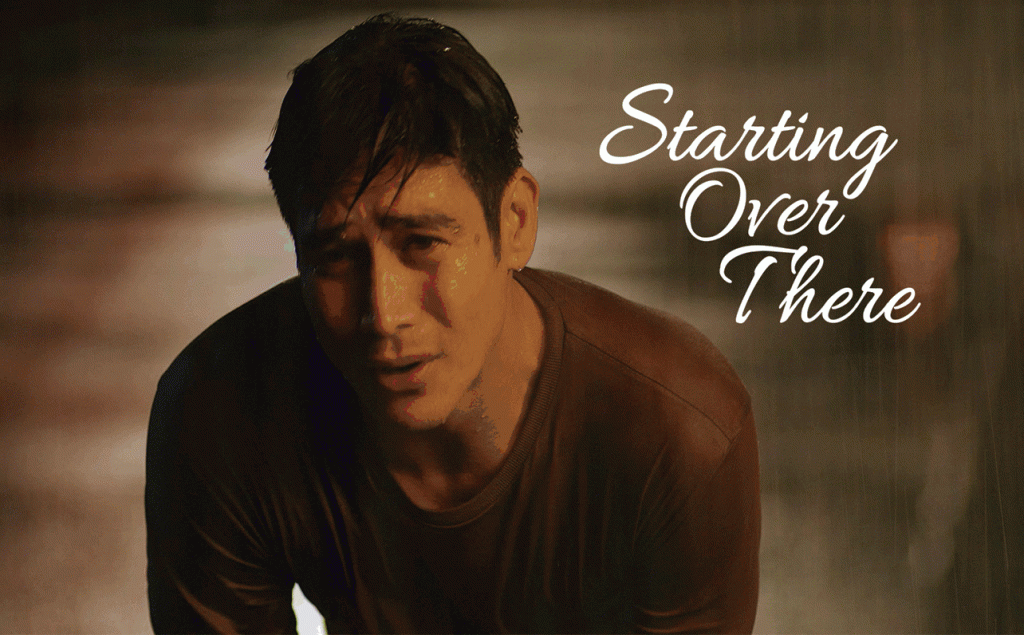 The old woman chides him, pointing out that with his ATM card, Marco can access an ATM, a BDO branch, and even a BDO Cash Agad kiosk at a sari-sari store. All of which are just around the same block as they are.
Another video, "Starting Over Today," shows the same character, Marco, passionately delivering the classic lines from the original film. We realize that Marco is inside a bank, somewhat mortified that he wasn't able to get a BDO Kabayan Savings earlier–because he thought it would be a complicated, arduous process. The teller assures him otherwise.
The third video, based on "Milan," shows Marco asking help from a lovely fellow OF in sending money from Italy to a BDO Kabayan Savings account. The lady – whose features are noticeably familiar – is supposed to be a stand-in for Claudine Barretto.
OF roles in movies, TVCs
Piolo has played several OF characters in various dramatic films–it's a role that he also knows in real life because he used to be a security guard in Los Angeles, California before he achieved Philippine movie stardom.
Piolo said that the most important thing that OFs need to remember is to reach out for help. "Marami kasi sa atin, may tendency to keep things to ourselves. Masyado tayong matiisin. Akala natin puntos para sa atin yung magdusa. No, it's not. Kung malungkot ka, o masama ang loob, call a friend. Makipag-usap sa kapamilya. Wala namang award na ibibigay sa iyo kapag sinarili mo ang problema mo. Nagiging delikado lang lalo ang mental health mo," he said.
He also reminded OFs not to hesitate getting professional help if needed. "There's still a stigma over mental health. Sa panahon ngayon, hindi na dapat ikahiya ang mental illness. Tratuhin natin na tulad lang ng ibang sakit sa katawan." He noted that there's no shame in getting help in order to be better in our minds and emotions.'
Piolo added that people should be more empathetic and compassionate. "Pag may lumapit sa atin dahil nalulungkot, o may problema. Huwag balewalain. Sometimes, we say, 'Kaya mo yan!' pagkatapos iiwanan natin.. Hindi sapat yun. Huwag natin iwanan. Samahan natin tapos pakinggan natin.Hindi naman kailangan tayo ang mag-solve ng problema. Basta maiparamdam natin na hindi siya nag-iisa. Na nandon tayo to support him or her." 
Piolo added that the new videos show precisely how to help. "In all the videos, mapapansin mo na kahit light and funny ang approach, malinaw ang mensahe: kapag ang kapwa Pinoy ay nasa alanganin, kapwa Pinoy ang tutulong. Hindi naman kailangan na solohin natin ang problema. Ang lakas ng Pilipino, nasa pagtutulungan, bayanihan. Especially during this pandemic, which is a huge, global problem, we need to call on the best in ourselves and help each other," he said.
All the new videos aren't just fun and enjoyable to watch but also showcase how Filipinos, deep down, are ready to help someone in need. During this public health and economic crisis, all essential services–including banking and remittances–have become crucial to our survival, sanity, and happiness. The pandemic and economic crunch may last longer than expected. But as Piolo's commercials show, in their own witty and hilarious way, we still have each other. And that's worth the effort to keep on fighting and hoping.
The videos will premiere on July 9, 2020.